Project created by
Daniel Linehan – Hiatus (2020)

In the midst of the coronavirus pandemic, dance students across the world faced the new reality of no longer having the studio at their feet. Whilst this of course came with its challenges, new experiences and ways of working/connecting with one another were waiting to be discovered…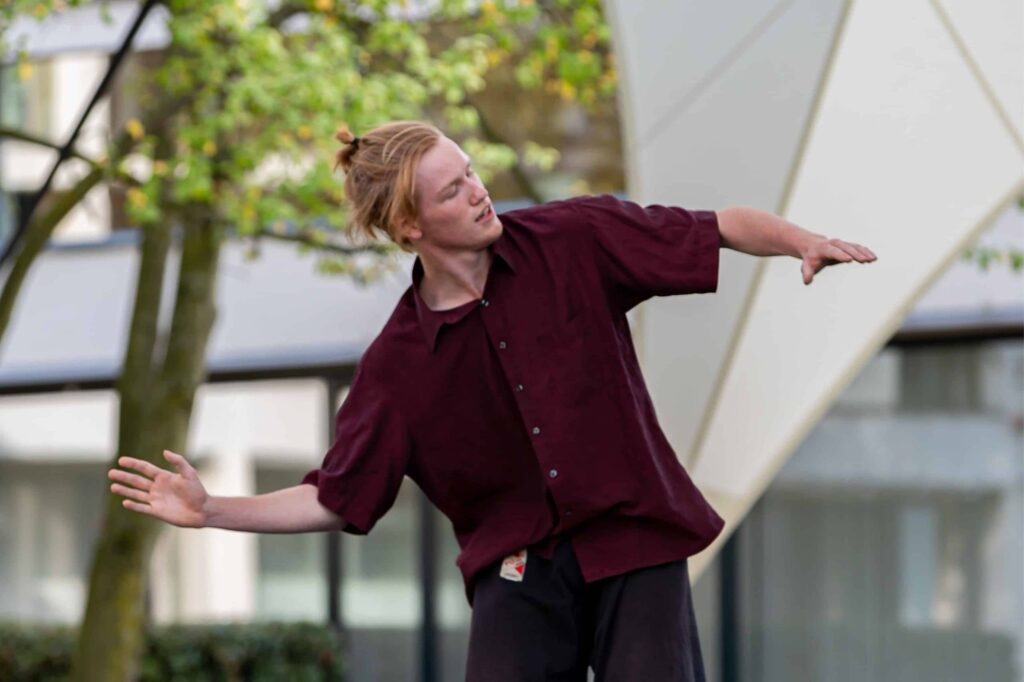 Created by: 
   Daniel Linehan (Hiatus)


   Performed by:
   Isabella Arboleda
   Tovar, Pierre Bastin,
   Olivia Rose Doyle,
   Amalia Guis, Elliot
   Minogue-Stone,
   Maja Mirek, Pjotr Nuyts,
   Anna Tejero Cirera,
   Pauline Thuriot and
   Axelle Vienne



In the final year of their Bachelor at the Royal Conservatoire of Antwerp, SIDEWARDS were expected to culminate their three years at the school with a performance made by Daniel Linehan. However with the new restrictions in light of COVID-19, Daniel, together with SIDEWARDS, took their process in a whole new direction and discovered what the digital world had to offer to rehearsals. 
Created both in the studio with distance and on Zoom, the dancers explored their sensitivity with a strong focus on listening and response. This was a welcome research after months of lockdown and isolation. The work was shared in the garden of DeSingel and served as a beautiful conclusion to the three year process SIDEWARDS had together with Daniel Linehan at the Conservatoire.
SIDEWARDS would like to thank Daniel "for giving us the space to open our senses, breathe together and connect to the resonance we feel within ourselves and in others". This wonderfully rich process was at the heart of the existence of this collective and marks the beginning of their process together as 'SIDEWARDS'.
SIDEWARDS members Anna and Pierre spoke to De Singel about their experience of creating with Daniel during this time of social distancing. Here is an article explaining how they both felt during the process!
Below you can find Daniel talking briefly about his experience of creating with us throughout these unprecedented times.